The clinic
the clinic
Imelio Perasso clinics have been working in Novi Ligure and Tortona since 1998. We are constantly trying to improve our patient's health and smile by attending professional courses, and using up to date technics. We blend different disciplines with the goal of a multidisciplinary approach, focusing on different clinical situations.
The continual preparation and organization of the medical team functions round the patient who, as the absolute center, must be given the opportunity to have the most modern working technics in order to satisfy their individual needs.
Face XP Partner
FACExp
Le cliniche Imelio Perasso fanno parte di Face XP, un network di cliniche ortodontiche selezionate in base ai risultati clinici raggiunti e al proprio percorso formativo la cui "mission" principale è quella di garantire ai pazienti trattamenti etici e scientificamente provati.
academy
academy
Thanks to their clinical results, Monica Imelio and Roberto Perasso have been admitted as active members of EAED (Eu-ropean Academy of Esthetic Dentistry) and of IAED (Italian Academy of Esthetic Dentistry), which are two prestigious in-terdisciplinary associations for the research of excellence in esthetic and functional results.
Teaching
teaching
Roberto Perasso is a visiting professor of the Specialization School in Orthodontics of the University of Trieste.
They are both professors of some University Masters in Rome and Brescia.
Courses
courses
The passion for solving complex clinical cases led them to develop specific protocols. They usually hold courses for col-leagues about Orthodontics and Prosthodontics Intedisciplinary Treatament which are identified by the brand FineArch.
Speaker
speaker
Monica Imelio and Roberto Perasso are speakers at national and international congresses.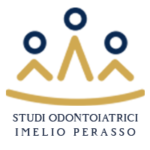 Ci occupiamo di ogni aspetto dell'odontoiatria, dall'estetica, all'implantologia, all'ortodonzia, con mezzi e tecnologie sempre aggiornati. 
MONICA IMELIO E ROBERTO PERASSO